This is a real old slice of Victorian London. A proper public convenience – of the Parisian-styled pissoir variety – of which very few survive. Made of iron, I'd seen a drawing of this particular toilet in Geoffrey Fletcher's book The London Nobody Knows and was thrilled to turn a corner – whilst wandering in unfamiliar streets and not a little lost – and there it was. In Star Yard, near Lincoln's Inn Fields. Just as he had sketched it 60 years ago. He worried then about whether it would survive much longer. But it has outlasted Geoffrey. I hope it outlasts us. These days it's painted a strange mint green – not how I imagined it from the original drawing and sadly its no longer open to the public. A lock on the door stops passers by entering and using the facilities. Which is just as well. The toilet is now owned by the private house opposite and is no longer available for the (male) public to relieve themselves. It is currently used as a storage space by the owners of the house.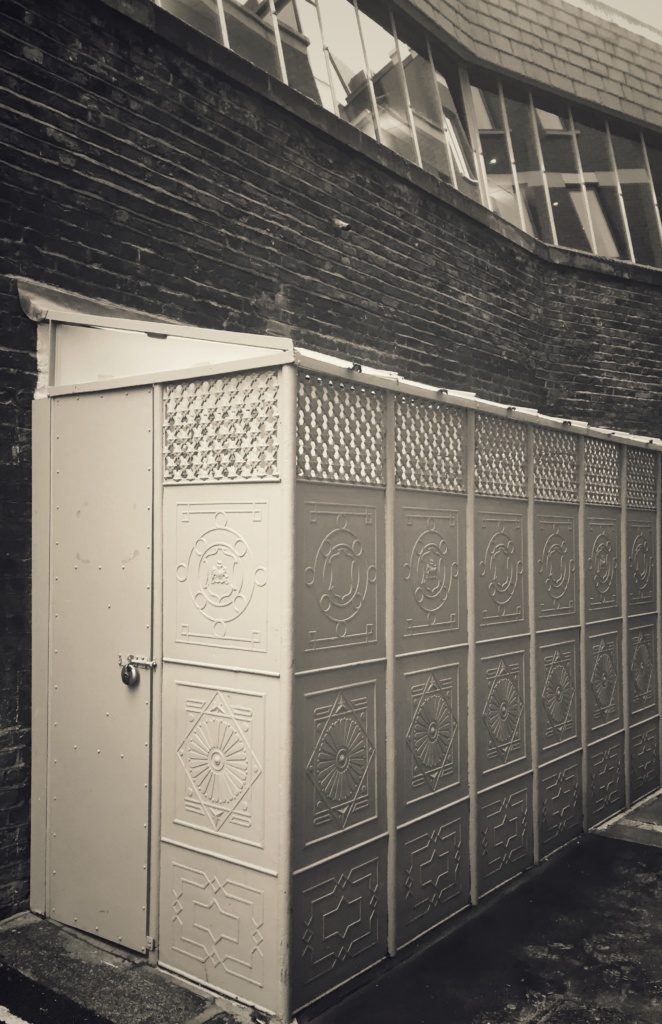 But it retains a dignity and remains a link back through the centuries to waters long passed.
Geoffrey Fletcher's sketch from 1962, below, shows the toilet pretty much the same as it is today – and probably how it looked when it was introduced to the Yard in 1851. Unfortunately the Georgian houses standing behind the toilet have gone, replaced by the overwhelming modern wall which today dwarfs the lavatory.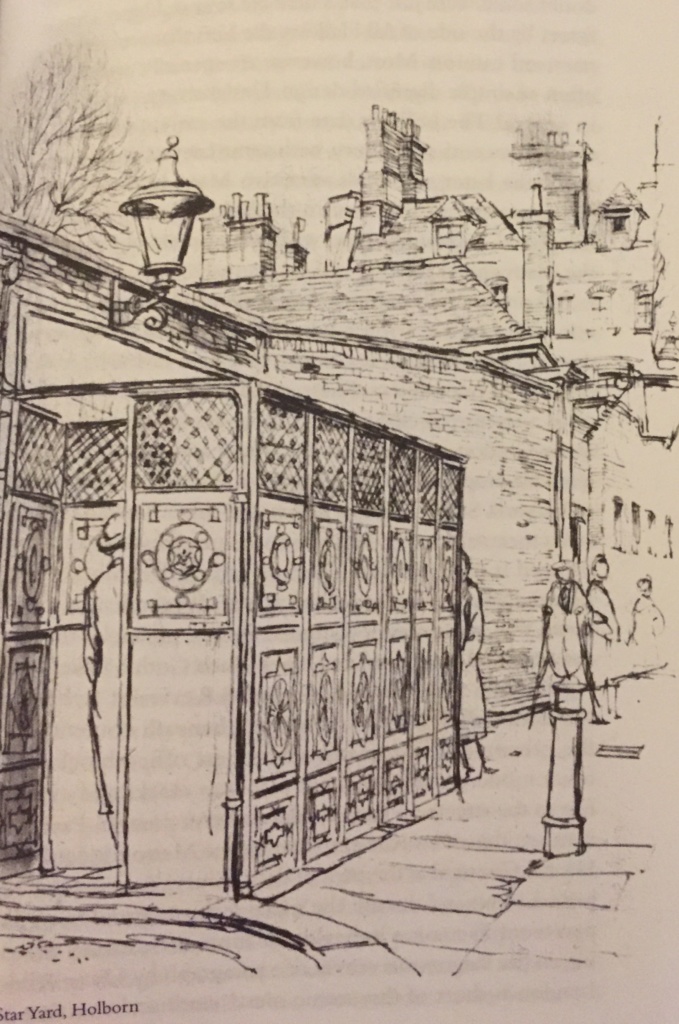 This is what Geoffrey wrote in 1962:
"The cast-iron lavatories of London…are very decorative. This example has an intricate pattern of ornament to offset the starkness of this utilitarian structure, providing standing room only. The royal coat of arms appears in several of the panels; no doubt the manufacturers had a royal warrant for their other productions – greenhouses, perhaps.
… In passing, in the drawing.., note the bollard making the passage one for pedestrians only…..Traditionally, they are supposed to be made out of old cannon"
The bollard is gone but the way is blocked by a lamp post today and the alley remains pedestrianised. This is how the toilet looks in colour: