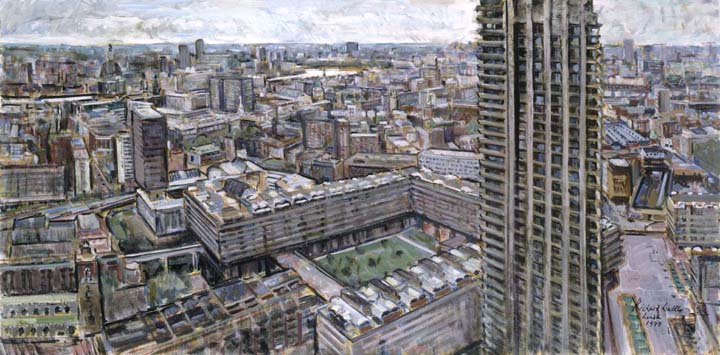 The Cripplegate area of the City of London was decimated during the Blitz. In the 1950's it was decided to build the Barbican residential estate on the Cripplegate ruins. It was designed by ubiquitous architects Chamberlin, Powell and Bon (who were to post-WWII London what Wren had been to the London recovering from The Great Fire), and built between 1965 and 1976 to provide homes to around 4,000 people living in over 2,000 flats. Flats were then thought to be the way forward; a very modern way of living. (David Kynaston's Austerity Britain has a great section on the town planners' post war move away from houses if you are interested). The estate was also designed to make maximum use of the (then) fashionable material, concrete.
The Barbican estate was indeed intended as an experiment in modern urban living. It consists of 13 terrace blocks, grouped around a lake and green squares within the complex. The main buildings rise for up to seven floors above a podium level, which links all the facilities in the Barbican, providing a pedestrian route above street level. Some maisonettes are built into the podium structure. There's no place for vehicles in the estate. It also contains three of London's tallest residential towers, which are (from east to west); Cromwell Tower which was completed in 1973 (named after Oliver Cromwell), Shakespeare Tower (completed in 1976 – named after William Shakespeare) and Lauderdale Tower (completed in 1974 – named after the Earl of Lauderdale whose London house provided the site for this tower).
This painting is called Looking From Cromwell Tower and was painted by Richard I. B. Walker in 1977; the year after the new concrete estate had been completed. Its panoramic view of the City was taken from a 'small and rather precarious balcony' on the top floor of Cromwell Tower. Apparently afraid of heights, Richard Walker strapped himself, his equipment and his 'ominously-flapping canvas' to the balcony in order to paint on the spot. The lower half of Walker's oil painting shows the Barbican Estate. Shakespeare Tower is on the right, with the church of St Giles Cripplegate in the bottom left corner. Above the church tower to the right, Bastion House stands next to the Museum of London's pitched glass roof. The Thames is visible beyond the dome of St Paul's Cathedral.
The painting shows that by the 1970's most of the gaps in London landscape that had been caused by the War had been filled. The unrelenting and dull grey shapes of the painting (and in particular the overwhelming of St Paul's Cathedral) call into question the merits of the new architecture. This is Cromwell Tower from which Walker painted his picture: