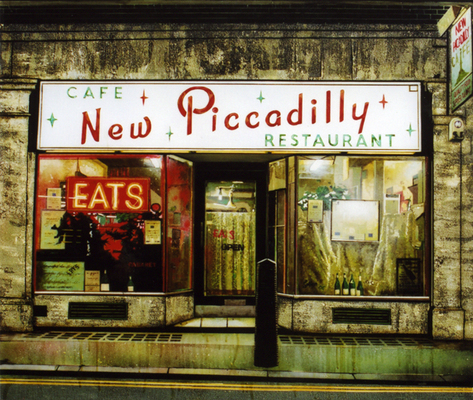 Stuart Free paints London buildings. Not for him the famous landmarks though, his interest is in local buildings that are the backdrop to everyday life. Cafes, shops, pubs, clubs, warehouses and tower blocks. People are left out of the pictures so that the buildings themselves can step forward to enjoy centre-stage. Many of them are derelict and decaying and Stuart captures the buildings before the third "d" (demolition) obliterates them from the landscape in the cause of (yet another "d") development. Building by building, he captures the London that is slipping through our fingers.
This picture is the New Piccadilly Cafe which served the Piccadilly area from the 1950's until its sad demise in 2007. It was a wonderful kitsch establishment and you can see many pictures of it, here. There is also a brief history of the cafe which is a pleasure to read.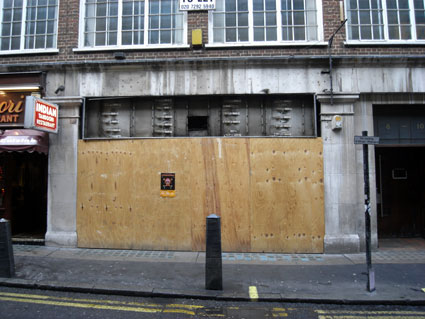 This is what the site looks like currently. The area is to be redeveloped, the cafe is closed and one of London's hidden gems is no more. Stuart's work remains as testimony to its previous existence and the people whose lives were lived in and around it.
There was a profile of Stuart in the Independent newspaper recently. You can read it here. He was interviewed by Robert Chalmers who I think hits the nail on the head when he said to Stuart that "One of the fascinating things about your pictures is the way that – even though they're typically buildings or façades, with no people in them – they still carry a powerful emotional charge; I think because they somehow exude the personalities of the people who cherished them, or neglected them – or, in some cases, even trashed them"
You can see more of Stuart Free's paintings at his website, here. His work is increasingly collected (he has several local celebrities such as Simon Pegg among his fans) and he also does some commissions each year.
These are some of his other pictures that I like: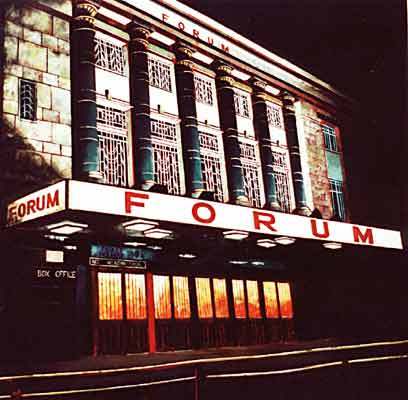 This is Forum II which is, of course, the facade of The Forum (now The HMV Forum) in Kentish Town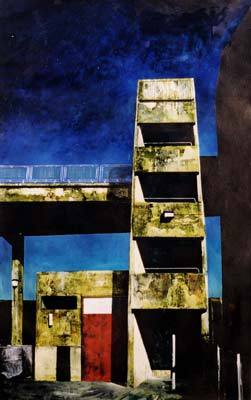 This is Hackney Tower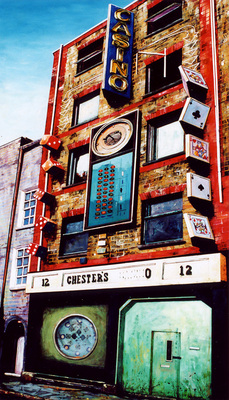 This is the old Charlie Chester's Casino that used to be in Archer Street but which is now sadly closed. There is a lovely little film of London casino's in 1969 by Pathe, here, which has a shot of Charlie Chester's Casino at 1 minute 41 seconds.