Patrick Keiller made his strange, uncategorisable  film, London, in 1992. It's not a documentary although it uses documentary style footage and it's certainly not traditional fiction. Perhaps Peter Ackroyd's towering London: The Biography sits closest to it with an impressionistic mix of factual grit and poetic fancy suggesting the capital.
The film is narrated by an unnamed character (voiced by Paul Scofield) who follows his friend, the unseen Robinson around London. Robinson is apparently involved with research into the "problem of London". The film was made 13 years into a long period of Tory rule (from 1979 and 1997) and Keiller is clearly not a card carrying Conservative. The narrator records a city that is being badly let down and wearied by Thatcherism and its successors.
Here is an example from the film.
You can watch the full film here.
James Bridle has taken on the task of recreating the 1992 film scene by scene by filming the same shots as Keiller used in the original. Its now 13 years since Labour came to power and London has been reshaped in the intervening years. It feels an appropriate time to be comparing how London was with how London is.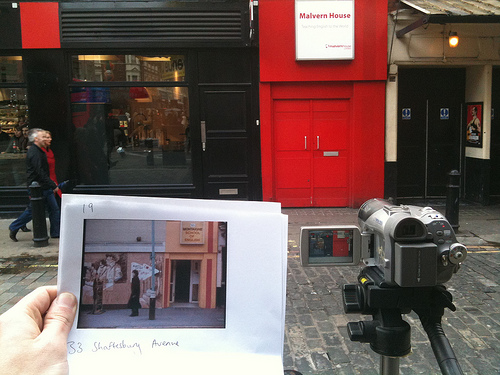 James is writing about his progress on this website, shortermemoryloss.com.