It sits on Narrow Street as part of a row of old houses and warehouses that now look shabby chic among the modern houses that surround them.
The hanging baskets outside the pub were impressively vulgarly huge, a waterfall of colour cascading over the building's frontage.
Inside the pub was doing brisk trade. There were a handful of tourists but mainly locals drinking well kept beer (I had a pint of Timothy Taylor that was spot on) and wine. A couple next to me ordered a plate of ribs and a pie and chips that looked superb; fat well cooked home-made chips. I petted their Shar-pei dog and  chatted with them as they ate. She had pink hair and a nose stud, he had a bobble hat and tattoos. They were from Sunderland and lived on a narrowboat that they moved around London and was currently moored nearby. They were only around 30 years old but had a refreshing adventurous outlook on life; "we decided not to dream about what it would be like to live in a boat, we decided to try it!".
The pub has a bit of form. Its part-owned by Ian McKellen (Gandalf etc) and feels appropriately theatrical. It may or may not have been the model for "The Six Jolly Porters" decribed by Dickens in "Our Mutual Friend" – The Prospect of Whitby also claims that link – but it is not hard to imagine him sitting in the bar with a tankard in front of him. When you go to the back of the pub there is a small viewing gallery which looks across the river. There is a small beach below the gallery when the tide is low and a wonderful statue called "Another Time" by Anthony Gormley planted in it facing the east.
The pub's walls are covered with old paintings and photos of the pub going back centuries – it was opened in the sixteenth century. Here is one of them that I liked taken from the beach looking up at the river front of the pub. What a marvellous place.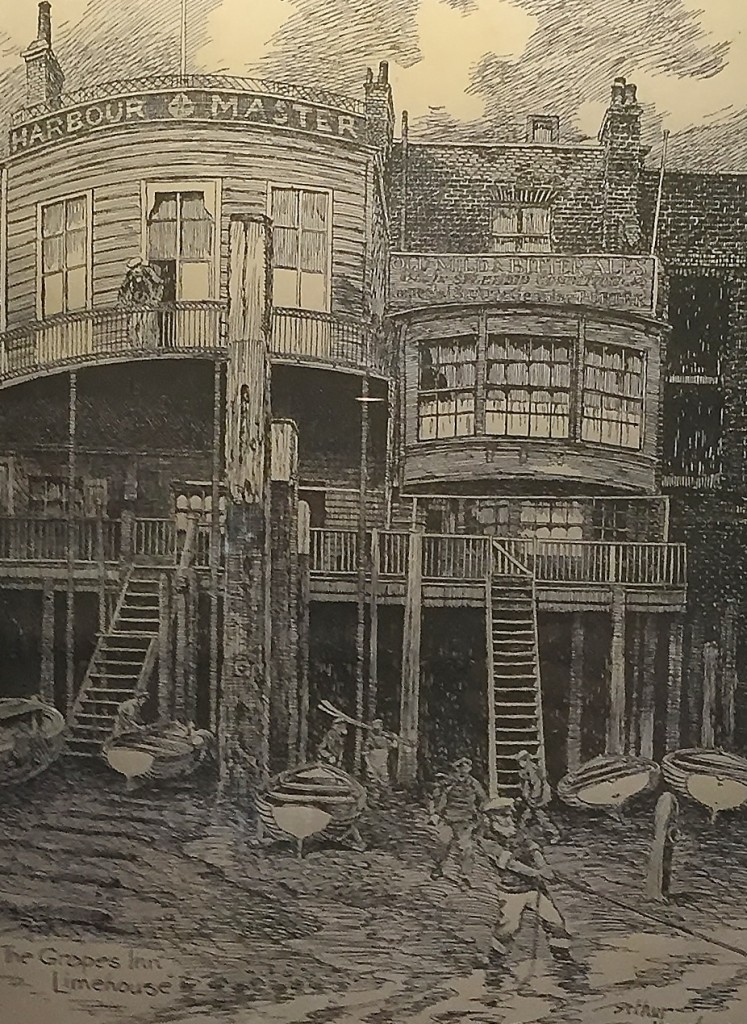 More London Pubs are featured on the Pubs and London Pub Map pages