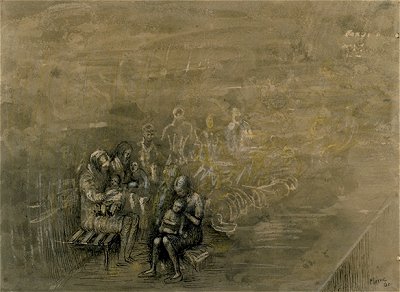 There's a new exhibition of Henry Moore's work at Tate Britain which runs from February 24th to August 8th, 2010.
It includes some of the most famous pictures of London during the Second World War, including this one Women and Children in the Tube, which did much to cement Moore's reputation as a globally significant artist.
Waldemar Januszczak looked at their origin in an article in The Sunday Times last weekend. In it he recalls the often told tale of how Moore claims to have come to create his London underground pictures after travelling home from a dinner party on the tube during the blitz:
"On the way home, the train stopped at every station. At each new platform, more and more frightened Londoners flocked into the tunnels to spend the night on the platforms: burying themselves in the dark to keep safe. Shocked, moved, inspired, Moore claimed he immediately began the great series of doomy underground scenes that were to endear him so fully to the British public and which seemed to put such a vivid face to a moment of national darkness."
Look closely at the Moore picture above and particularly at the lady in the lower half of the painting in the middle. Then compare it to this photo of Caroline Wright and her son Harry shot by Bert Hardy for the Picture Post in 1940.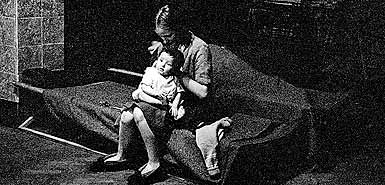 It looks clear that Moore copied this image – and Januszczak believes that further Picture Post pictures were the template for some of the other great Moore London Underground images. This undermines Moore's claims to have created these works spontaneously in response to what he saw when travelling on the tube.
Although fascinating to pick over the bones of how stuff gets made, I'm not sure that any of this matters. I don't think its very important where inspiration comes from; ultimately, all art lives and dies upon how that inspiration is channelled and the images that are created as a consequence. No doubt the story of how these pieces were conceived adds to their mythology – rather like how the story of Jack Kerouac having typed out On The Road in a few frenzied days on the back of rolls of wallpaper helped his myth making (in fact he'd been working on the book for years) – and so adds to their significance and saleability. The fact that the story may be part "tall tale" doesn't detract from the power of the pictures. And hey, guess what…it's got us all talking about Henry Moore again.