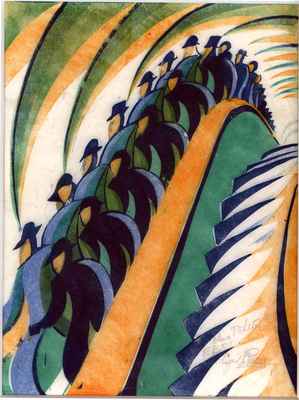 What a cracking image! Sleek and modernistic. Very 1930's.
It's called Whence and Whither – a great title to boot! – and was produced by Cyril E, for Edward, Power in 1930. (He had a son called Cyril A, for Arthur, Power hence the need for the middle name letter).
Cyril Power, born in Chelsea in London in 1872, was a architect who followed in his father's footsteps career-wise. He had a succesful business as a practicing architect and he also lectured on the subject at University College, London and later at Goldsmith's College down in New Cross. In his "other" life, he was a compulsive artist who worked in many styles including ink and pen, illustrations and oils.
In the late 1920's, Power began using linocuts. This was, at the time, a new and cheap artistic process that had been developed in Germany before the Great War and was being experimented with across Europe. Fellow London artists, Claude Flight and Sybil Andrews (with whom he shared a studio) created a mini-school of London Linocutters and showed their work at a series of exhibitions in the Redfern Gallery, the first one in 1929.
He produced several of pictures of scenes from the london underground between 1929 and 1934. Ironically (and in an opposite trajectory to the typical "London" artist) he moved his family out of London during this period and so made these images as an exiled Londoner looking into the city from the outside. I think that they are lovely.
I've arranged the pictures as if they illustrated a trip on the tube to the fair on Hampstead Heath (although they weren't painted in this order):
This is a close up of The Escalator (1930)
And this one on The Tube Station (1925) itself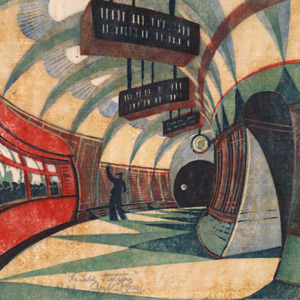 And then onto The Tube Train (1934)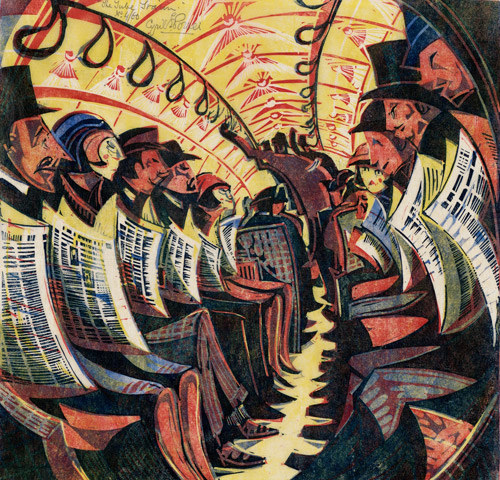 Arriving in 'Appy A'mpstead (1933)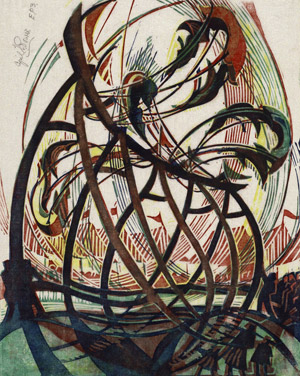 In the late nineteenth and early twentieth century Hampstead Heath was the in place to go on Bank Holiday weekends. There was a funfair and tens of thousands congregated to enjoy an 'Appy 'Ampstead. You can see some excellent Pathe film of the 1931 event, here. Power's inspiration is plain to see. Other artists drew upon the subject of this funfair, including Arthur Rackham in 1913, here, and various musicians including Albert Ketelby who composed Bank Holiday ('Appy 'Ampstead) as part of his Cockney Suite in 1924. Nothing goes together quite like Funfairs and cheap pop music, and there was inevitably a big music hall hit in the 1890's to sing praise to the phenomenon and publicise the phrase 'Appy 'Ampstead, written by Albert Chevalier.
In a moment of serendipity, I've discovered (just this second!) that my favourite website of, and about, London songs The London Nobody Sings has covered this exact subject recently. Rather than re-invent the wheel, I suggest you go and read their piece on The 'Ampstead Way. And you can see my previous blog on he wonders of The London Nobody Sings, here. Like the funfair, its always worth a visit!
My favourite ride at the funfair is The Merry Go Round (1929) and this is my favourite, and final, of these pictures by Power because of the feeling of exhilarating movement: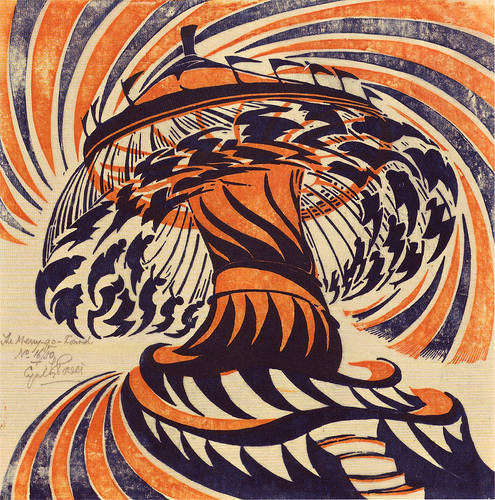 Cyril Power moved on to work in other styles but I think these linocuts were a great period of his work. He returned to London in later life and died in 1951.