It does not feature on many of the maps of London; it's not even on Google Maps. But if you walk away from the column at the centre of Seven Dials along Earlham or Monmouth Streets you will chance across entrances to a hidden courtyard. And if you pass through to the other side you have found one of Central London's secret places – Ching Court. It's a strange but successful mixture of Georgian steadfastness and silly 1980's post-modern (po-mo) design and it's quite lovely.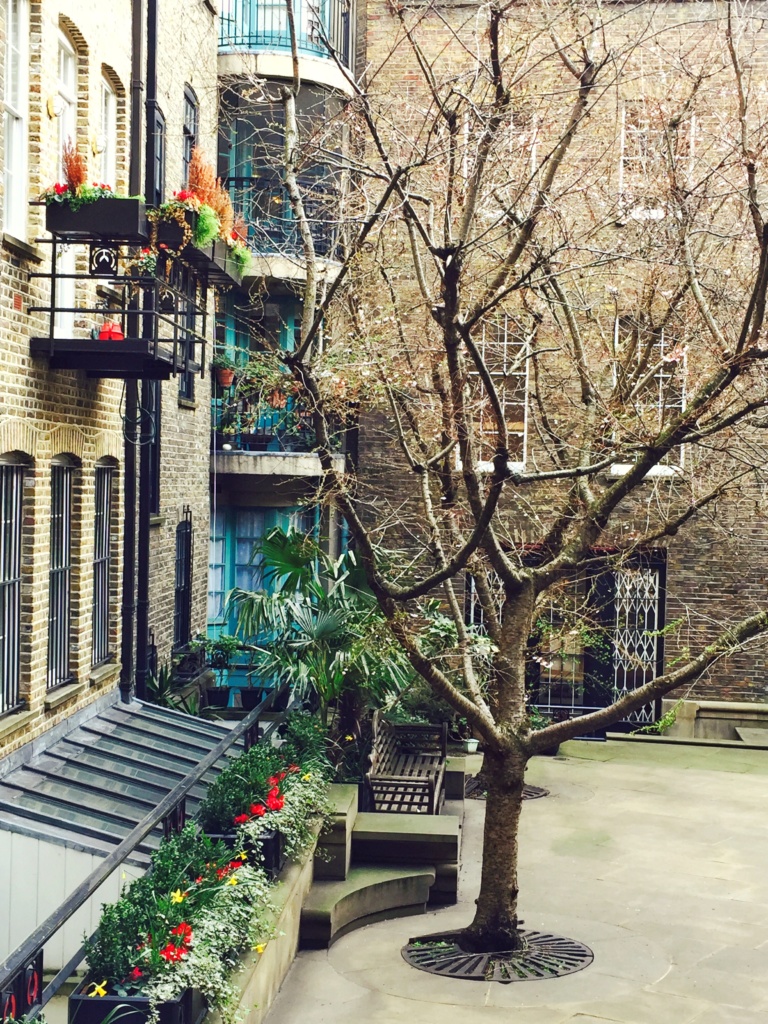 Its  full name is Comyn Ching Court. Comyn Ching Architectural Ironmongers was a company in the architectural ironmongering trade (unsurprisingly), which owned and occupied the Shelton Street buildings that backed on to the Court from 1720 until well into the twentieth century. Through a series of changes of location and commercial mutations, Comyn Ching, the company, still exists (and has a member of the Ching family at its head) but is now based in Bury St Edmunds.
The Court was run down, with many of the residences overlooking it unloved and empty, when redevelopment began in the 1970's. Heath Robinson extensions had been erected that occupied much of the floor space of the court.
Terry Farrell and Partners led the redevelopment of the buildings that surrounded the court between 1978 and 1988. They also cleared out the unruly extensions and filled in a couple of the corners of the court with new developments, where the buildings proved impossible to to save.
Po-mo fancies are everywhere which is to be expected given Farrrell was the man responsible for Embankment Place and has been called Britain's "premier postmodernist". The green doors that lead into the rear of the businesses of Earlham Street, for example, exude post modern playfulness – if you like that sort of thing – or look like something infantile from Noddy's Toy Town if you don't.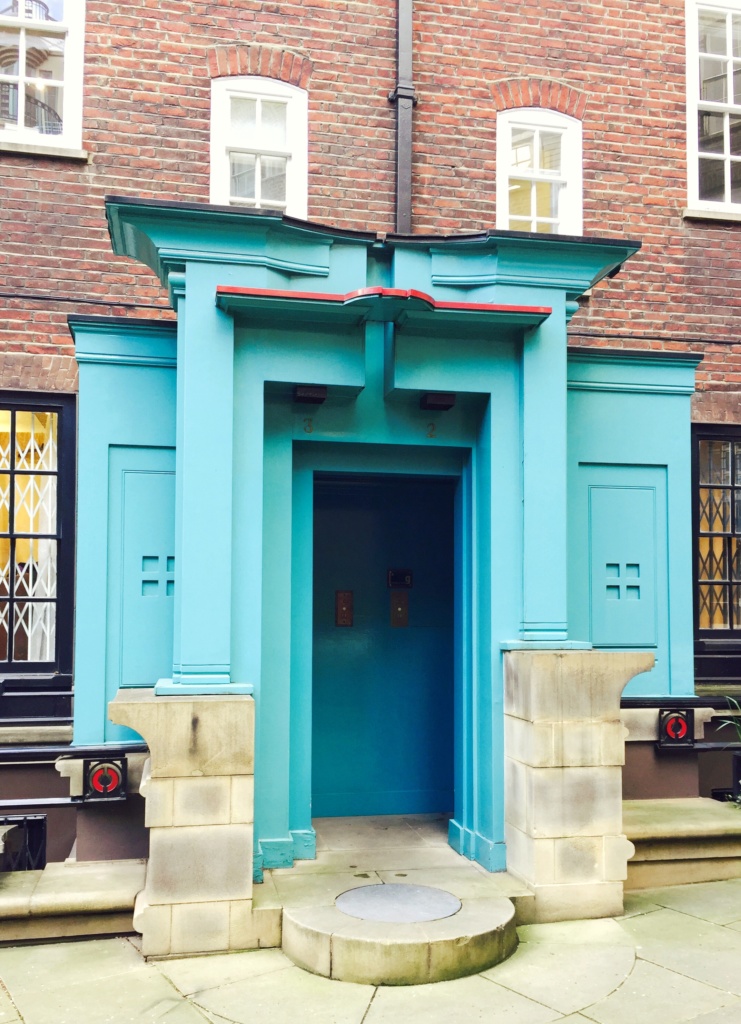 Opposite corners have different po-mo infill buildings. One green.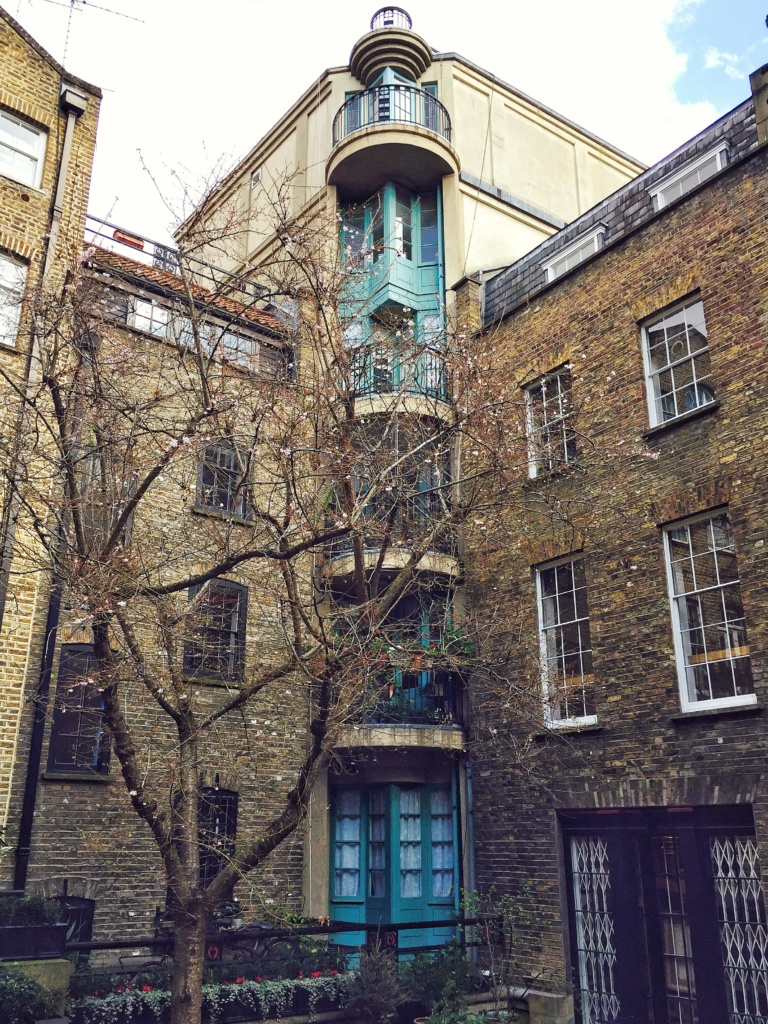 The other red.
Despite most po-mo buildings looking ludicrous and out of place in London, these work. The contrast between the 18th century and the 1980's  gives the court a theatrical feel.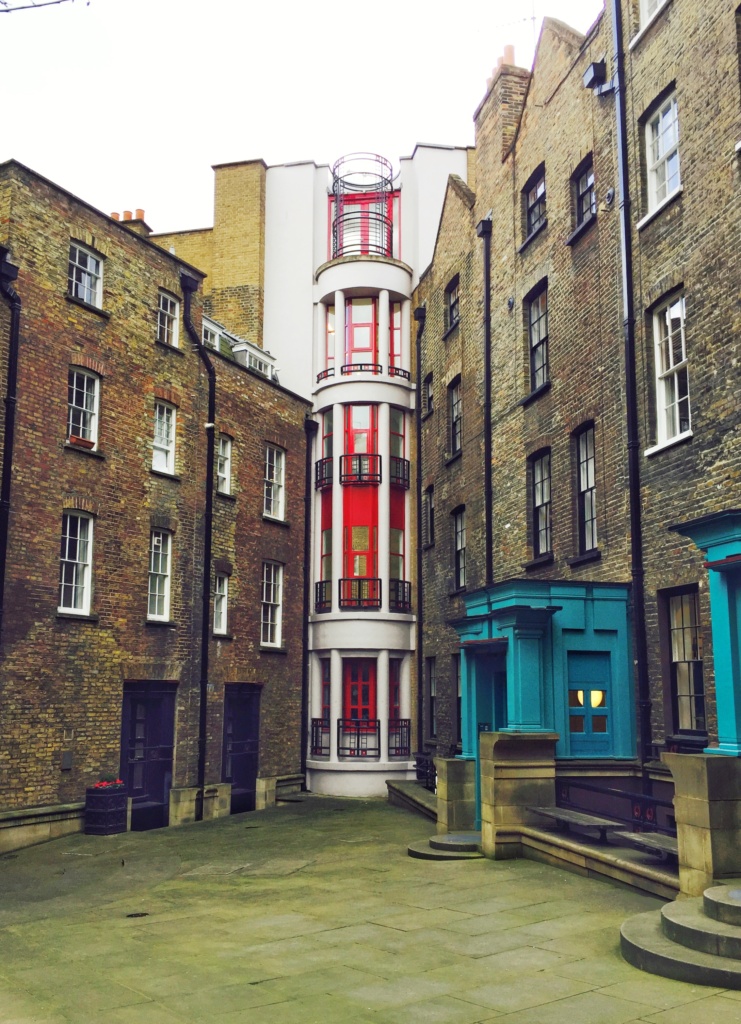 Perhaps size is important. The po-mo bits do not overpower the historical buildings but add to add to them.
Whatever, as the kids used to say! The court is a wonderful hidden London secret that adds to the architectural firmament of the city and gives us a special calm place to idle away a few moments.
PS. In late 2016, Terry Farrell's work was given Grade II listed status.