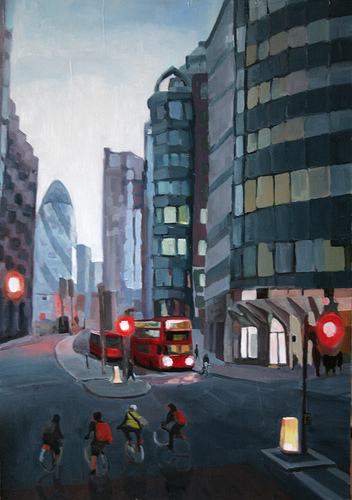 What a good picture. In it, London experiences one of those occasional and strange moments of calm. The traffic has been stopped at a junction, nobody is moving and a street suddenly and briefly empties. It's as though the city itself has taken a deep breath and paused. 
The painting is set at dusk, a time of transition from day to night, and the picture is in part about this changing light. Natural daylight is draining out of the sky and giving in to the artificial bus headlights and red traffic lights which stand out brightly in the bottom, street level, half of the picture. Dusk is an unresolved and murky time of day, neither one thing nor the other, and we can feel vulnerable in it. The picture suggests that unsettling quality. The impatient cyclists who form a line in the foreground are literally waiting for the light to change (in their case from red to green, or at least, knowing London's cyclists, from red to almost amber) before they can continue their race out of the city. But just for a small moment we can experience the fuggy eerie peace of the city at twilight, before the light does indeed inevitably change and the city re-erupts with its usual frenzy. 
Olha Pryymak is originally from the Ukraine but is now based in London. She paints and draws a lot of pictures of London street scenes, "documenting everything of my immediate environment…the choice of subject matter revolves around my own life in the city: my favorite places here are nooks and crannies of the East End and its various street markets" 
She has spent the last year aiming to paint a small 6×6 inch picture each day which include many London scenes. She sells them through Dailypainters, Etsy and her own site which also includes her blog. 
She had a good review (in The Daily Mirror of all places) of a piece she exhibited in the Royal Academy Summer Show in 2009. You can read it here.