This is Before The Hurricane, Regent Street by Bill Jacklin, painted in 1988. I like the movement in this picture, the sweep of Regent Street and the lines of vehicles and pedestrians trailing along it with the rain cutting across all. The play of light on the buildings and vehicles is lovely.
Bill Jackson is a London born, London trained artist (Walthamstow School of Art, Royal College of Art in the 1960's) who went on to teach at Chelsea School of Art and then the Royal College of Art through to the mid 1970's. He's worked in a variety of styles over the years but has returned time and again to cityscapes. Strangely, given where he was brought up and educated, the city in question for most of his works tends to be New York. He moved across to the Big Apple in 1985 and according to his website  has since concentrated on "painting 'Urban Portraits' of 'the city' in all its guises; from large scale canvases of crowds in flux to intimate moments in Seurat-like etchings".
He has returned home to the Big Smoke from time to time to paint the odd London scene including the one of Regent Street which he worked up from this charcoal on paper piece called Regents Street In The Rain :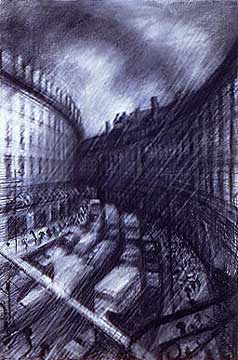 His returns to London have often been linked to large commissions such as the following two examples:
Futures Market, Royal Exchange, London which was painted in 1988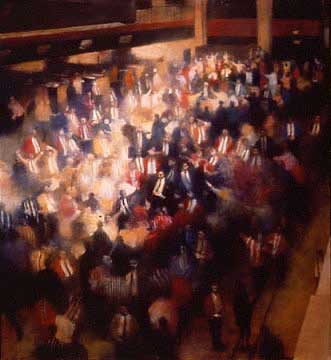 And this is The Ivy commissioned by the famous restaurant of the same name in 1992:

He was elected a Royal Academician in 1991.  Jacklin continues to live and works in New York.
There is an interesting interview with Jacklin by Jill Lloyd here.