In the madness that is the current rebuilding of Tottenham Court Road station as part of the  Crossrail development, there is one small oasis of calm. Tucked in besides St Giles-in-the-Fields church, which seems to be too busy making itself "relevant" by hosting food markets and musical recitals these days, there is a lovely stoical red brick building with an unusual two storey green door. A painted sign on on the gable of the building declares it to be "Elms Lesters Painting Rooms and Stores".
It was built in 1903 as a state of the art, purpose built studio for the painting of stage scenery to supply the local West End theatres. The large green door was to allow the huge scenic backdrops to be brought in and out of the building and then transported to whichever theatre required them. Interestingly, the door was not always so large. This picture from its opening shows a smaller opening. I'm not sure why this would be. Did the sets get bigger?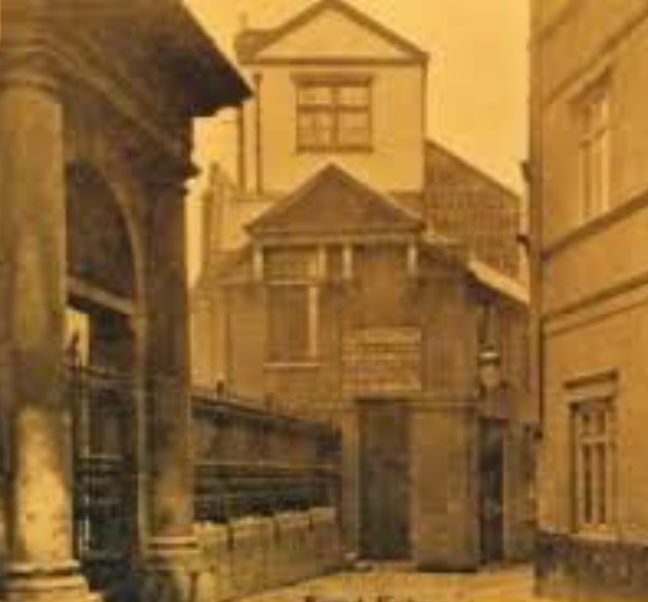 The painting rooms are intact – and grade II listed – but were nearly not so, having two near misses from bombs. During the Second World War several attached buildings were flattened to create the space now occupied by the Phoenix Gardens. In 1992 the IRA had a go, leaving a bomb outside the building to kill Londoners, tourists and churchgoers. Luckily the bomb was not significant and nobody was seriously hurt but it goes to show just how constant the threat of cowardly terrorist bombs has been to the inhabitants of London.
Unfortunately the scenery painting business has long since moved on and Elms Lester's business collapsed in its wake. The occasional scene is still painted but the building has housed an art gallery since 1984 which has been its main trade since then. It has also been the location for many pop photo-shoots and the odd video over the years – but sadly not Shakin' Steven's masterwork "Green Door" which of course pre-dates this phase of the building's life by a couple of years and does not explain the mystery of the enlarged green door.