Unfamiliar with this part of London my satnav took me into an alley that led to a development of identikit 1980's houses. I assumed I must be about thirty years too late to have a gawp at the old brewery cottages in Bellevue Place, just off the Mile End Road in Stepney.
Coming back onto Cleveland Way an unassuming and gently graffitied green door caught my eye. It looked private and locked  but when I pushed against the door, it opened to reveal the hidden and surprisingly rural idyll that is Bellevue Place.
A cat that was sitting in a sliver of sunlight, enjoying the warm spring day, looked up disturbed and irritated by my intrusion. It stood and stretched, shuddering life back into its static body before slinking off into one of the gardens revealing its puckered sphincter beneath an erect tail as it went. A none too subtle message to me, it seemed.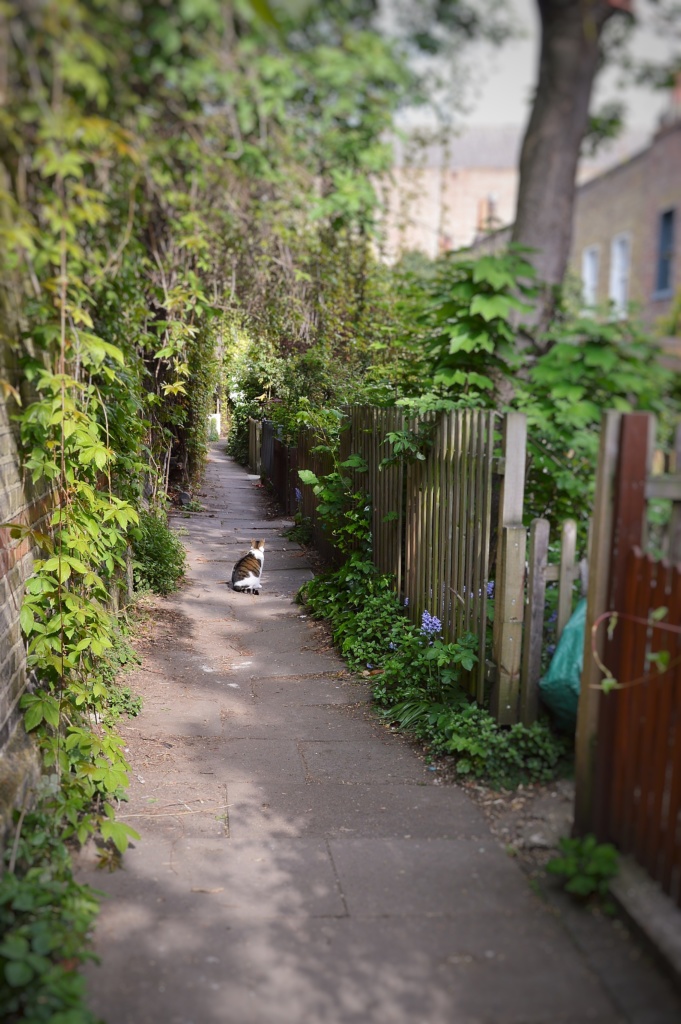 But what gardens they are. Bellevue Place is an alley with a wall on one side (which separates it from the 1980's housing estate into which I had mistakenly ventured) and a row of perhaps a dozen or fifteen small and pretty cottages, each with a well kept and mature garden in front of it, on the other.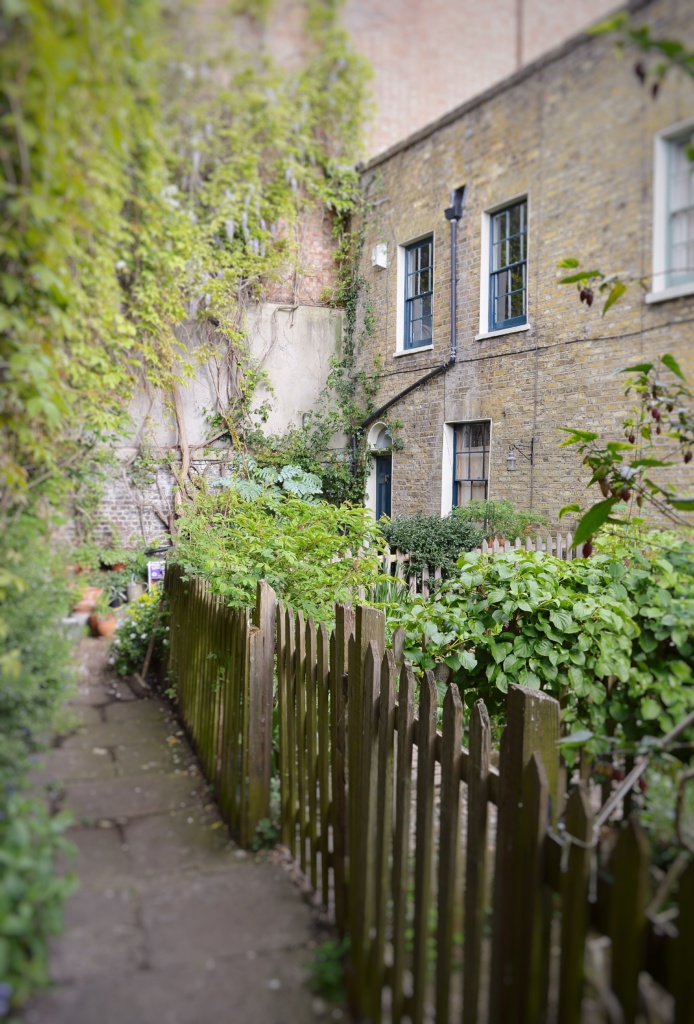 At the end of the alley you hit a brick wall and the open yard of the end cottage.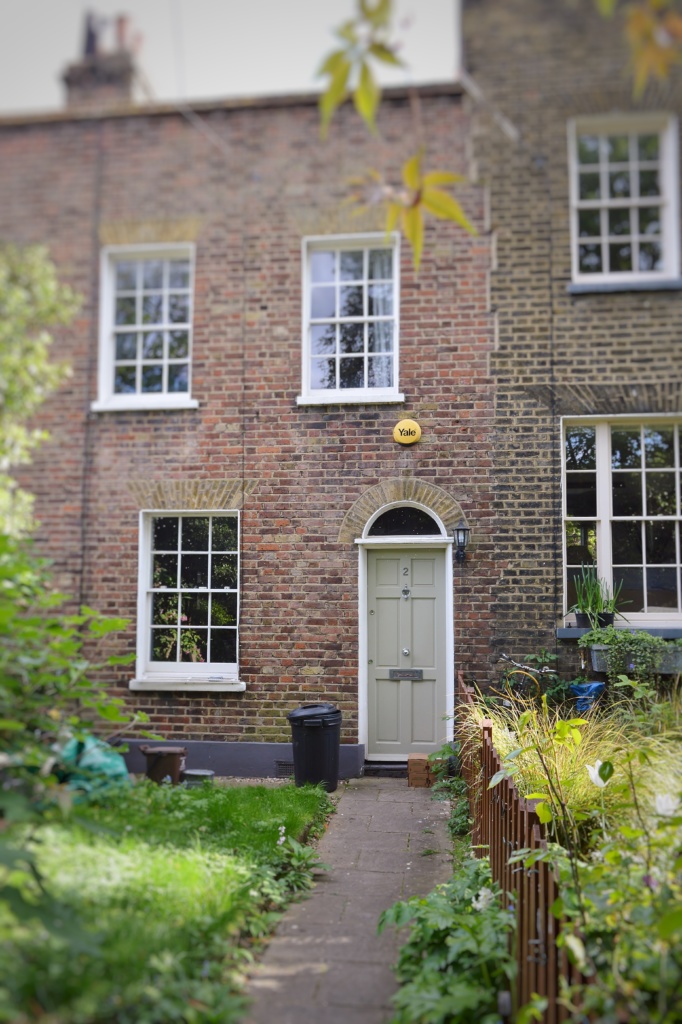 The old Charrington Brewery used to exist on the other side of the cottages. In The London Nobody Knows in 1962, Geoffrey Fletcher  had worried that these cottages would have been unlikely to survive if Charringtons had needed to expand. In 2017, the brewery is long gone and the cottages continue to prosper. There is something quaint and reassuring about them, a flavour of the hobbits' shire, oddly rural and yet only a stones throw from the Mile End Road, within sight of the Gherkin.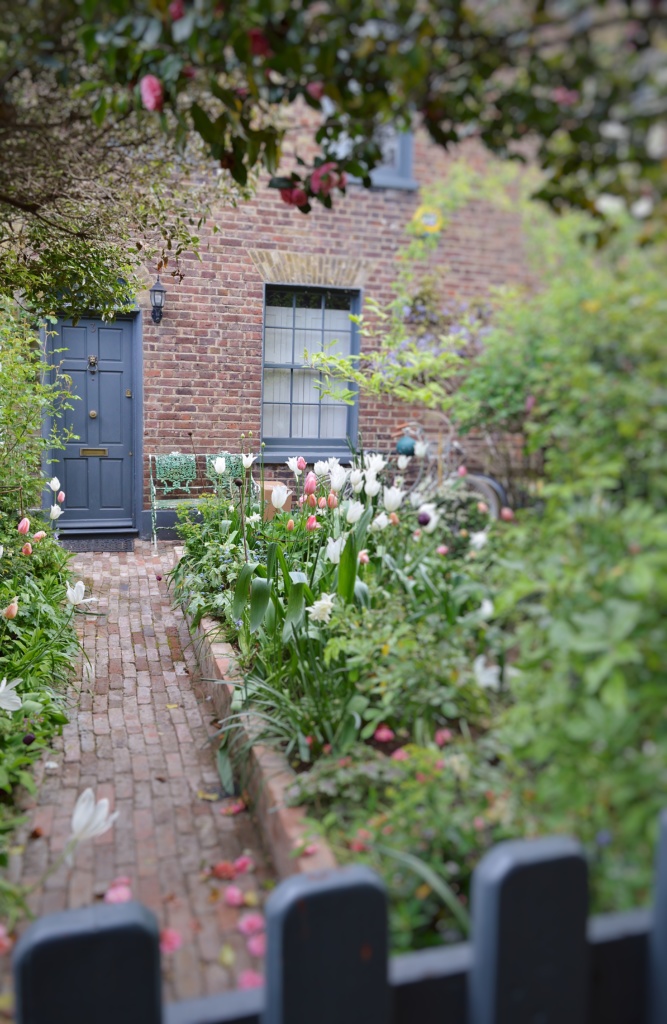 The cottages used to be occupied by brewery workers. A slice of proper working class London. Now the inhabitants are increasingly from further up the social scale and most of the cottages are gentrified, looking as shiny and well-kept as anything in Chelsea or Islington. Almost new but without losing too much of their charm.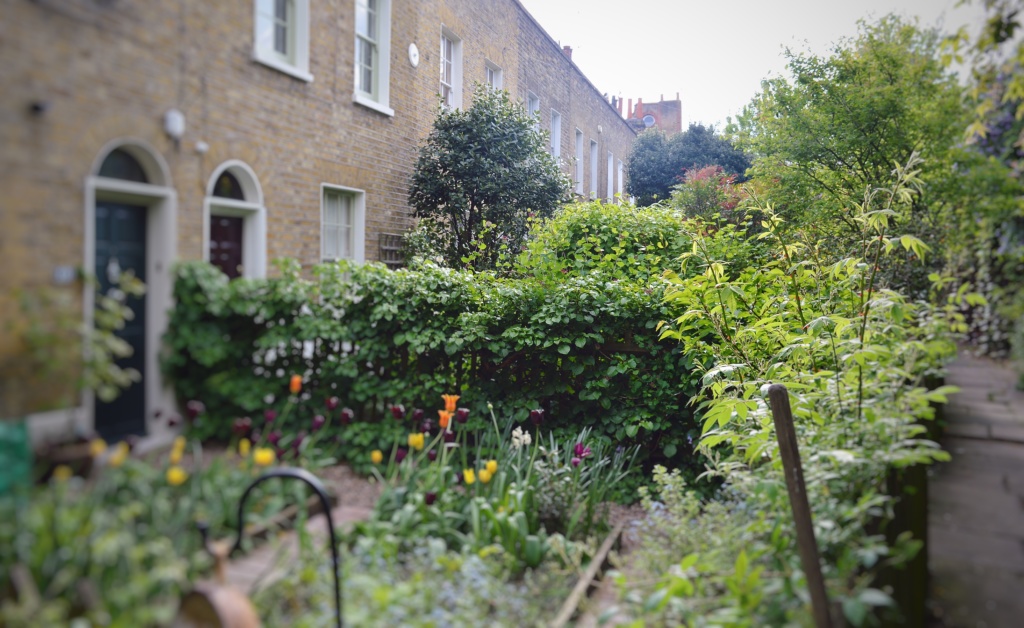 Geoffrey Fletcher – of course – sketched the row in the early 1960's. It's impossible to capture the same view today as the trees block some of the houses. The cottages may be tittivated and not quite as "authentic" as he found them but they are, unlike the brewery (which is largely knocked down beneath an horrific retail park), thriving.  This is a remarkable little place that is yet another candidate for London's loveliest street.
As is often the case, the Gentle Author, who creates the astonishing piece of work that is the Spitalfields Life website, has been here before me. S/he met one of the inhabitants, Joan Naylor,  who lived here when her husband worked for Charringtons and into the 2010's.